Jan 5 2023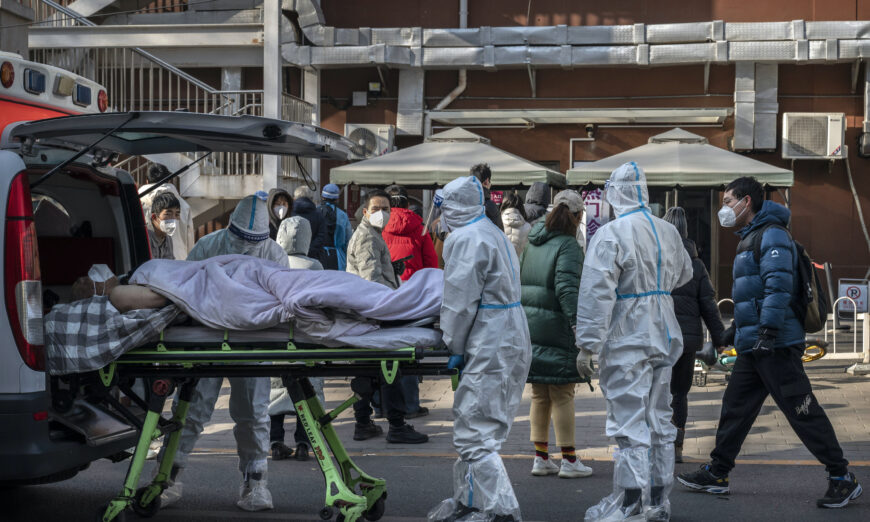 Medical workers wear PPE as they arrive with a patient on a stretcher at a fever clinic in Beijing, China, on Dec. 9, 2022. As part of a 10 point directive, China's government announced Wednesday that people with COVID-19 who have mild or no symptoms will be permitted to quarantine at home instead of at a government facility, testing requirements are reduced, people are permitted to buy over the counter medications, and local officials can no longer lock down entire neighborhoods or cities, a major shift in its zero COVID policy. (Kevin Frayer/Getty Images)
0:0010:161
Experts predict that a new strain of COVID-19 may be spreading throughout China, which may pose a serious risk to immunologically suppressed Americans.
https://b14e5876d1f2d19859d4b11bfdbf981d.safeframe.googlesyndication.com/safeframe/1-0-40/html/container.html
Chen Erzhen, vice president at Ruijin Hospital and a member of Shanghai's COVID-19 expert advisory panel, recently admitted that "the spread of the epidemic in Shanghai is very wide, and it may have reached 70 percent of the population." In response, the U.S. Centers for Disease Control and Prevention (CDC) imposed a new travel mandate affecting travelers from China, requiring passengers 2 years and older—regardless of nationality or vaccination status—to produce a negative COVID-19 test before they are allowed to board the plane. Those who tested positive for the virus 10 days before flying can provide proof of recovery from the virus instead of the test.
Considering Dr. Anthony Fauci's proclamation eight months ago that the United States is no longer in the "pandemic phase" of COVID-19, and data showing that nearly 70 percent of the U.S. population has been fully vaccinated, the travel ban has caused speculation among some health experts as to what the CDC is trying to keep out of the United States. Several suggest that a new variant is on the loose in China, which could pose a serious risk to America's immunologically suppressed population.
High Viral Loads Versus Natural Immunity
According to Dr. Syed Haider, China's lockdowns were so severe that, while they were able to slow the spread of the virus, the program simply delayed the event they are going through now.
To Haider, an internal medicine specialist and founder of MyGoToDoc.com, the CDC's new mandate may be an effort to "prevent new variants, which may be developing in the population of China, from entering the United States."
"A lockdown will slow or stop the spread only until you end the lockdown," Haider explained to The Epoch Times. "Now [China is] having to deal with COVID while everyone else has already done that for the past couple of years."
Haider's biggest concern is this possible new variant may also affect people with natural immunity, which is probably why the CDC's mandate includes a requirement for proof of recovery, regardless of vaccine status.
"What's going on in most countries like the United States is that people who got vaccinated are now suffering from suppressed immune systems and getting weaker with each booster, making them more prone to catching and spreading the virus," Haider explained. "The most concerning thing is that the virus is multiplying out of control inside of their bodies, so they are developing higher viral loads, and then they are more likely to infect someone who even has natural immunity."
As Haider explained, "the vaccinations are what drove the evolution of the virus, along with diminishing immunity in those who are vaccinated, leading to higher viral loads and different variants, which are more likely to evade natural immunity." He noted how studies are now showing drops in immune functions with every shot. This is the same opinion expressed by Dr. Christina Parks, a cellular and molecular biologist, while providing testimony before the Michigan House of Representatives regarding HB4471 on Aug. 19, 2021.
"Those two things, higher viral loads and new variants that can evade natural as well as vaccine immunity, are leading to this outbreak in China, which is why it's concerning for the rest of the world," Haider insisted.
He also said many immune systems are now "shifting in the direction of IGG4 immunity, which is a type of antibody immunity meant for things that you're not supposed to react to, like allergies." For example, he noted how most people have natural IGG4 antibodies against peanuts. Because most immune systems are trained to mark this as not dangerous, the body won't attack the allergen because it isn't supposed to be harmful.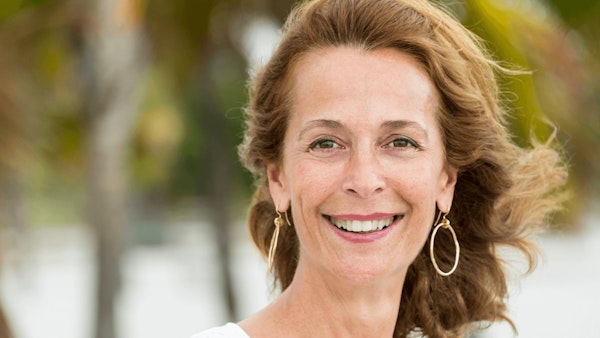 "You don't want this for viruses," Haider asserted. "We want the body to attack viruses. But for those with a second, fourth, fifth, and sixth vaccination shot, their entire immune response is shifting over to IGG4, which means their bodies are marking this virus with a sign that says, 'this is not dangerous, let it multiply as much as it wants.' Then it multiplies all over and fills up their organs with viral cells, and eventually—when it's too late—their immune system realizes it's all over now and they die, but not before passing on higher viral loads to everyone they come in contact with. This is why we are seeing people with natural immunity getting sick again and hospitals being more full than they have ever been. Death rates are going up. People are getting RSV flu and COVID 1, 2, and 3 all at once. Why is that? Because people have weakened immune systems."
'It Could Be ADE'
In the opinion of Dr. Simone Gold, what we are beginning to see "could be ADE."
According to the Children's Hospital of Philadelphia, antibody-dependent enhancement (ADE) occurs "when the antibodies generated during an immune response recognize and bind to a pathogen, but they are unable to prevent infection. Instead, these antibodies act as a 'Trojan horse,' allowing the pathogen to get into cells and exacerbate the immune response."
Data from an NIH study published Sept. 9, 2020, suggests anti-SARS-CoV-2 antibodies could exacerbate COVID-19 through ADE. On Sept. 14, 2021, the NIH admitted that ADE was an unavoidable problem in vaccine development.
"Since Asia was seemingly not as affected in 2020 as the rest of the globe, perhaps the mutations from the world's mRNA vaccine rollout have made their way back to expose those countries, and [are] presenting more virulently because of antibody-dependent enhancement," Gold told The Epoch Times.
Gold cited how the mutations of the SARS-CoV virus being caused by the mass mRNA vaccine rollout in the United States are similar to the problems that followed the use of Dengvaxia in a mass immunization program to inoculate children against the dengue virus in the Philippines in 2016.
On Dec. 22, 2015, the vaccine's manufacturer, Sanofi Pasteur, announced that the Philippine government had granted marketing approval for "the first vaccine to be licensed for the prevention of dengue in Asia." A year later, Sanofi Pasteur admitted the vaccine could worsen symptoms for people who had not previously contracted dengue and recovered. On March 1, 2019, the Philippine government announced it would file criminal charges against Sanofi Pasteur for the deaths of children who had been injected with its vaccine. A total of 730,000 children were vaccinated with Dengvaxia. On June 6, 2018, the Philippine government's Public Attorney's Office Chief Persida Acosta announced that its Department of Health declared the deaths of 87 children might have been caused by the vaccine.
Gold also suggested that China may be dealing with something completely new.
"It could be a new virus, as their bio-safety is sorely lacking and they perform gain-of-function research with regularity," Gold suggested.
The NIH describes gain-of-function as "the gain of new functions by organisms through genetic changes, which can naturally occur or by experimental genetic modifications."
"Gain-of-Function research on viruses is enhancing transmissibility, virus replication, virulence, host range, immune evasion or drug and vaccine resistance to get insights into the viral mechanisms, to create and analyze animal models, to accelerate drug and vaccine development and to improve pandemic preparedness," the NIH explains further.
The Vanden Bossche Prediction
Haider also theorized that China may be seeing a new variant that's "five or six variants in from the rest of the world."
"This may be their first real exposure to COVID," he said, suggesting "they may have never seen another variant before."
"These people in China were vaccinated for the initial strain. Now they're seeing a strain that's been evolving for two years to specifically evade vaccine immunity," Haider explained. "We are seeing recombination of the current variants. Omicron is starting to pick up some of the Delta mutations in its spike protein and some of the latest variants are showing very concerning upticks in mutations. Delta was more severe than the first strain. Now Omicron may be heading in that direction. So I do worry that what Geert Vanden Bossche predicted is happening as we speak."
In May 2022, Geert Vanden Bossche, an independent virologist and vaccine expert who holds a doctorate in both veterinary medicine and virology, predicted (pdf) that SARS-CoV-2 would evolve into things far more dangerous.
"I SERIOUSLY expect that a series of new highly virulent and highly infectious SARS-CoV-2 (SC-2) variants will now rapidly and independently emerge in highly vaccinated countries all over the world and that they will soon spread at high pace," he wrote, adding his expectation that the "current pattern of repetitive infections and relatively mild disease in vaccinees" would "soon aggravate and be replaced by severe disease and death."
"Unless we immediately implement large-scale antiviral prophylaxis campaigns in highly vaccinated countries," Vanden Bossche theorized, "there shall be no doubt that the pandemic will end by taking a huge toll on human lives."
REPORTER
Patricia Tolson, an award-winning national investigative reporter with 20 years of experience, has worked for such news outlets as Yahoo!, U.S. News, and The Tampa Free Press. With The Epoch Times, Patricia's in-depth investigative coverage of human interest stories, election policies, education, school boards, and parental rights has achieved international exposure. Send her your story ideas: patricia.tolson@epochtimes.us